Line 1:
Line 1:
 

{{Template:Infobox Character

 

{{Template:Infobox Character

 

|Name = Weise

 

|Name = Weise

−

|Image = 28WeeksInfectedSoldier.jpg

+

|Image = .jpg

 

|ImageSize = 290px

 

|ImageSize = 290px

 

|Actor = William Meredith

 

|Actor = William Meredith

Line 14:
Line 14:
 

Following the [[Original Outbreak]] of the [[Rage Virus]], Weise was assigned to join the [[US]]-led [[NATO]] force of 7000 soldiers under [[Brigadier General Stone]]'s command that went to Britain to repopulate [[London]].

 

Following the [[Original Outbreak]] of the [[Rage Virus]], Weise was assigned to join the [[US]]-led [[NATO]] force of 7000 soldiers under [[Brigadier General Stone]]'s command that went to Britain to repopulate [[London]].

 

===''[[28 Weeks Later]]''===

 

===''[[28 Weeks Later]]''===

−

Weise guards [[Tammy]] and [[Andy Harris]] when the two children are taken back to [[District 1]] and detained. When the [[Second Outbreak]] of the [[Rage Virus]] starts in District 1, Weise leaves to investigate, telling Tammy and Andy he will be back in a moment. Weise goes out into the corridors to investigate, and is attacked by an [[Infected]]. Now infected with the Rage Virus himself, Weise returns to the isolation cell and tries to break in to get to Tammy and Andy. However, [[Scarlet Levy|Scarlet]] comes up behind the infected Weise and shoots him in the head, killing him.

+

Weise guards [[Tammy]] and [[Andy Harris]] when the two children are taken back to [[District 1]] and detained. When the [[Second Outbreak]] of the [[Rage Virus]] starts in District 1, Weise leaves to investigate, telling Tammy and Andy he will be back in a moment. Weise goes out into the corridors to investigate, and is attacked by an [[Infected]]. Now infected with the Rage Virus himself, Weise returns to the isolation cell and tries to break in to get to Tammy and Andy. However, [[Scarlet Levy|Scarlet]] comes up behind the infected Weise and shoots him in the head, killing him.

 
 
 

==Trivia==

 

==Trivia==
---
Revision as of 11:47, 6 May 2012
Portrayed by:
William Meredith
Appearance(s):
28 Weeks Later
Profession:
US Army soldier
Nationality:
American
Category:
Infected
Status:
Deceased
Cause of death:
Shot in the head by Scarlet Levy
Weise was part of the US Army and was in the NATO force responsible for repatriating London after Great Britain was originally decimated by the Rage Virus.
Biography
Following the Original Outbreak of the Rage Virus, Weise was assigned to join the US-led NATO force of 7000 soldiers under Brigadier General Stone's command that went to Britain to repopulate London.
Weise guards Tammy and Andy Harris when the two children are taken back to District 1 and detained. When the Second Outbreak of the Rage Virus starts in District 1, Weise leaves to investigate, telling Tammy and Andy he will be back in a moment. Weise goes out into the corridors to investigate, and is attacked by an Infected. Now infected with the Rage Virus himself, Weise returns to the isolation cell and tries to break in to get to Tammy and Andy. However, Scarlet comes up behind the infected Weise and shoots him in the head, killing him.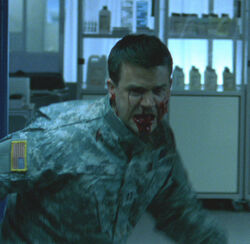 Trivia
Weise's name is never credited; his name is only ever given by his military uniform's name badge.