This article's title is a nickname, based upon conjecture or similar evidence. The correct title is unknown.
Portrayed by:
N/A
Appearance(s):
28 Days Later: The Aftermath
Profession:
Nationality:
Unknown (possibly British)
Category:
Killed by Infected
Status:
Deceased
Cause of death:
Torn apart by Infected
The Hunter (real name unknown) was a survivor of the Rage Virus who declared war on Hugh Baker over control over the ruins of London.
Biography
[
]
Nothing is known about the Hunter's life before the Original Outbreak of the Rage Virus. When the city of London was wiped out by the Infection, the Hunter was one of the few survivors who stayed behind instead of retreat into the countryside.
Twenty-nine - thirty-two days into the outbreak of Infection, the Hunter met Hugh Baker in the ruins of London, and saved Hugh from two Infected before shooting at Hugh himself; prompting Hugh to declare war on the Hunter.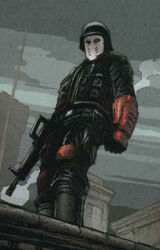 later, Hugh took the Hunter by surprise by throwing bottles of soap and perfume down at him; attracting large hordes of Infected which proceeded to attack and overwhelm the Hunter and tear him apart.