Portrayed by:
Alexander Delamere
Appearance(s):
28 Days Later (film)
Profession:
Nationality:
Unknown (possibly British)
Category:
Infected
Status:
Deceased
Cause of death:
Stabbed in the head by Selena with a machete. (Infected)
Mr. Bridges was Jim's neighbour. He was infected and subsequently killed by Selena.
Biography
[
]
Bridges and his daughter were neighbours of Jim's parents, and lived in Deptford, four houses down the street from them. During the Original Outbreak of the Rage Virus, Mr. Bridges and his daughter were both infected.
29 days into the outbreak, the infected Bridges and his daughter were drawn to Jim's house by the light of a candle. Mr. Bridges and his daughter broke into the house through the skylight and patio doors and attacked Jim.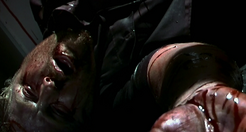 However, Mark and Selena came to Jim's aid, and Selena killed Bridges by stabbed him in the head to death with her machete.
Personality
[
]
Apparently, Jim's family were very good friends with Mr. Bridges and his family. Jim described Mr. Bridges as a very warm and kind-hearted man. And was very shocked to learn that he and his daughter were behind the vicious attack on him.
Consequently, it would be accurate to say that Bridges had no personality at all once he was infected.