Sergeant Luis Rodriguez was a US Army soldier in command of a small military squad. He was murdered by Captain Stiles.
Biography
[
]
Following the Original Outbreak of the Rage Virus in Great Britain, Sergeant Rodriguez and his squad travelled to Britain to patrol England while NATO repopulated London on the Isle of Dogs.
Approximately twenty-seven weeks after the Original Outbreak, Luis and his small squad were patrolling a town in Cumbria when they came across Selena and Clint Harris in the streets. At first they mistook the two for Infected, but Luis realised that they weren't Infected when he made a joke to which Selena responded with awe and confusion.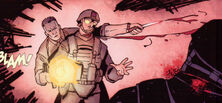 Luis offered to take Clint and Selena to District One in London, when Captain Stiles arrived and demanded that Selena be handed over to him. Luis refused and demanded Stiles give him an ID to confirm who he was. Stiles complied, then took Luis by surprise while was reading it, slashing his throat with a knife and killing him, before taking his weapon, using it to gun the three men of Luis squad.
Personality
[
]
Rodriguez normally had a warm and kind demeanor, but if he found any possible sign of danger, he became much sterner and more serious. He apparently also had an odd sense of humour.