Portrayed by:
N/A
Appearance(s):
28 Days Later: The Aftermath
Profession:
Nationality:
British
Category:
Infected
Status:
Deceased
Cause of death:
Died of starvation or killed when shaken off his family's car
Liam was the youngest son of Roger and Barbara and younger brother to Sid and Sophie before he was infected when the Rage Virus first broke out.
Biography
[
]
During the early days of the Original Outbreak of the Rage Virus, when the family were enjoying a family picnic only a few miles from the original hotzone, Liam was attacked by one of the infected chimps from the Cambridge Primate Research Centre.
Paramedics strapped the infected Liam down and loaded him into an ambulance to be taken to a hospital in London. However, during the journey, Liam was able to break free, infect the medics, and break out of the ambulance.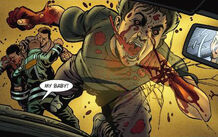 Liam proceeded to attack his family's car, forcing them to shake him off.
It is unknown what happened to Liam afterwards, but presumably, he was either killed when the family shook him off the car, or he eventually died of starvation with the other original Infected within the next nine weeks.