Jacob was a survivor of the Rage Virus until he was infected and killed.
Biography
Edit
During the Original Outbreak of the Rage Virus, Jacob took shelter with Geoff, Sally and several other survivors in Sally and Geoff's barricaded cottage.
One day, when the survivors were preparing to have a dinner of pasta, Jacob was annoyed at Karen's denial that her boyfriend Sam was likely dead, scolding her and yelling at her. A young Boy from Sandford then arrived outside the cottage, and the survivors let him in. Moments later, a horde of Infected which had chased the boy attacked the cottage. Jacob tried to save Karen from an Infected which grabbed her through a window, but Karen was infected and tried to maul Jacob until Don killed her.
As the Infected overran the cottage, Jacob retreated to a barn with Geoff and Sally. The Infected eventually broke into the barn, infecting Geoff. Jacob tried to pull Sally away from the Infected to safety, but lost his grip and was forced to abandon her and escape the barn through a window.
Jacob then fled to the farm's dock, and prepared to escape along the river in a motorboat when Don arrived, pursued by dozens of Infected. When Don got into the motorboat, Jacob tried to jump aboard after him, but lost his footing and fell into the river. Don then tried to pull Jacob back onto the motorboat, but two Infected which had run into the river after the two dragged Jacob under the water and infected him.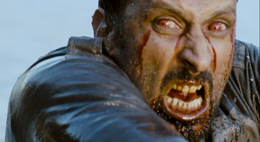 The infected Jacob tried to climb aboard the motorboat and attack Don, but the latter eventually shook him off and ran the motorboat over him, the boat's motor fan apparently shredding and killing him.
Personality
Edit
Jacob appeared to be a cold, bitter and anti-social man, having adapted quickly to the change of life. He was short-tempered and easily annoyed. However, he did not appear to be entirely heartless, as he did try to save Karen and Sally from the Infected.