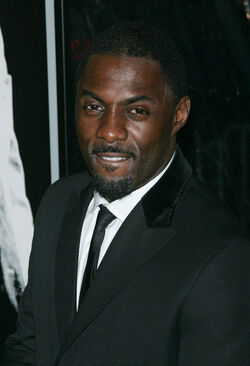 Idris Elba OBE (born September 6, 1972) is a British television, theatre, and film actor, producer, musician and DJ who has starred in both British and American productions. Elba is also a DJ under the moniker DJ Big Driis / Big Driis the Londoner, and a hip-hop soul recording artist.
Biography
[
]
Personal life
[
]
Elba, an only child, was born in Hackney, London. He is the son of West African immigrants; his father is Sierra Leonean and his mother Ghanaian. Elba has a daughter named Isan.
Career
[
]
Elba started acting in secondary school with encouragement from his drama teacher. He got his break as a supporting cast member of UK soap opera Family Affairs and rose to prominence in the highly acclaimed vampire series Ultraviolet, but is perhaps best known for playing Russell "Stringer" Bell, one of the major characters in the HBO drama series The Wire. He also portrayed Captain Augustin Muganza in Sometimes in April, an HBO TV movie about the Rwandan Genocide somewhat similar to Hotel Rwanda. One of his major roles included Tyler Perry's Daddy's Little Girls. Elba also co-produced and performed on the intro on Jay-Z's American Gangster album. Elba was also in the horror film Prom Night, released on April 11, 2008. He will co-star with singer/actress Beyonce Knowles in the upcoming film Obsessed which is set for 2009.
Elba has a large female fan base following an appearance on the cover of Essence magazine's "Hot Hollywood Men" issue in April 2004 and again in Essence's November 2005 "10 Hottest Men on the Planet" issue. He recorded the four-song EP Big Man for Hevlar Records in 2006.
Filmography
[
]
Obsessed (2009) ....Derek Charles
The Unborn (2009) ....Arthur Wyndham
The Human Contract (2008) ....Larry
RocknRolla (2008) ....Mumbles
The No. 1 Ladies' Detective Agency (TV series) (2008) ....Charlie Gotso
Prom Night (2008) ....Detective Winn
Clubbed (2007) ....TBA
This Christmas (2007) ....Quentin Whitfield
American Gangster (2007) ....Tango
28 Weeks Later (2007) ....General Stone
The Reaping (2007) ....Ben
Daddy's Little Girls (2007) ....Monty James
The Gospel (2005) ....Charles Frank
Sometimes in April (2005) ....Augustin Muganza
The Wire (2002-2004) .... Russell 'Stringer' Bell
The Inspector Lynley Mysteries: Payment in Blood (2002) .... Robert Gabriel
Buffalo Soldiers (2001) .... Kimborough
In Defence (2000) TV Series .... PC Paul Fraser: (segment 3)
Sorted (2000) .... Jam
Dangerfield episode (1999) .... Matt Gregory
Belle maman (1999) .... Grégoire
Ultraviolet (1998) .... Vaughan Rice
One Love.... Aaron
Awards/nominations
[
]
BET Awards

2007, Best Actor: Daddy's Little Girls (Nominated)
Black Reel Awards

2006, Best Actor: The Gospel (Nominated)
2006, Best Actor Network/Cable: Sometimes in April (Nominated)
Image Awards

2006, Outstanding Actor in a Mini-Series/Television Movie: Sometimes in April (Nominated)
Screen Actors Guild Awards

2008, Outstanding Cast in a Motion Picture: American Gangster (Nominated)
External links
[
]