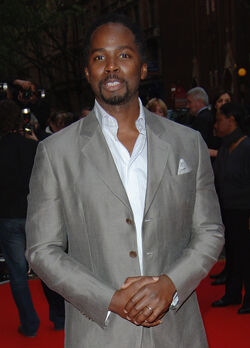 Harold Perrineau, Jr. (born August 7, 1963) is an American actor, known for the roles of Michael Dawson in the U.S. television series Lost, Link in The Matrix films and games, Augustus Hill in the American television series Oz (his character also serves as the narrator for the series), and Mercutio in Baz Luhrmann's Romeo + Juliet.
Perrineau, Jr. was born Harold Perrineau in Brooklyn, New York, the son of Harold Williams, Sr. His parents changed his name to Williams at the age of 7. Harold later legally changed his name back to his birth name, after discovering there was already a Harold Williams in the screen actors guild union. His French surname is actually his mother's maiden name. Perrineau and his wife, Brittany, have three daughters: Aurora Robinson (born 1995), Wynter Aria (born May 7, 2008) and Holiday Grace (born March 21, 2013).
In 1989, Perrineau was cast as the original Tyrone Jackson in the world premiere of the stage adaptation of the 1980 hit movie Fame (now known as Fame: The Musical) at the Walnut Street Theatre.
Perrineau took the role of Link in The Matrix series after the original operator Tank was written off the script when Marcus Chong was fired over money disputes. Lost co-star Adewale Akinnuoye-Agbaje starred with Perrineau on the HBO series Oz.
Perrineau plays the character Michael Dawson on Lost. He was temporarily written off Lost when his character left the island with his son at the end of season two and did not appear at all in season three; however, his return to the show for its fourth season was announced in July 2007. At the end of the fourth season, Perrineau's character Michael dies. Following his "Lost" departure, news broke that Perrineau had been cast in the upcoming pilot for ABC dramedy "The Unusuals."
Note: He is often credited without the suffix "Jr."
Felon (2008) as Lt Jackson.
28 Weeks Later (2007) as Flynn
CSI (2007) One Episode
Lost (2004-2006, 2008) as Michael Dawson
Dead Like Me (2003) as Yoga Instructor in the episode Rest In Peace
The Matrix Revolutions (2003) as Link
Enter the Matrix (2003) as Link
The Matrix Reloaded (2003) as Link
On Line (2002) as Moe Curley
Prison Song (2001), as Uncle Steve
Woman On Top (2000) as Monica Jones
The Best Man (1999) as Julian Murch
Oz (1997-2003), as Augustus Hill
The Edge (1997) as Stephen
Romeo + Juliet (1996), as Mercutio
Smoke (1995) as Thomas "Rashid" Cole
I'll Fly Away (1991-1993), as Robert Evans
Community content is available under
CC-BY-SA
unless otherwise noted.