Geoff was an old farmer and a survivor of the Rage Virus, until he was infected.
Biography
Edit
Geoff lived with his wife Sally on a farm a few miles downriver from Sandford. When the Rage Virus broke out, Geoff and Sally took in fellow survivors, Don and Alice Harris, Sam, Karen and Jacob, and barricaded themselves in Geoff and Sally's cottage.
One day during the outbreak of Infection, when Geoff and the other survivors were preparing to have dinner of pasta, a young boy from Sandford arrived outside and begged to be let in.
The survivors let the boy in, and minutes later the cottage was attacked by a horde of Infected. Geoff, Sally and Jacob retreated into a barn, where Geoff stayed behind to buy Sally and Jacob some time to escape. Geoff tried to hold the barn doors shut, but the Infected eventually broke in, attacking and infecting Geoff.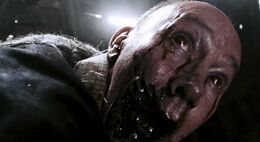 The infected Geoff most likely died of starvation at some later point.
Personality
Edit
Geoff was a kind, warm-hearted and selfless person. He also had a slight sense of humour.