Portrayed by:
N/A
Appearance(s):
28 Days Later (comic series)
Profession:
Nationality:
British (Scottish)
Category:
Infected
Status:
Deceased
Cause of death:
Throat slit by Selena
Douglas was the son of Kate and a survivor of the Rage Virus after it originally decimated Great Britain.
Biography
Edit
Following the Original Outbreak of the Rage Virus, Douglas' mother, Kate, formed a gang of survivors. When resources began to run out, Kate sent many people to the nearby town of Halkirk in search of food. Eventually, she sent Douglas, his father, and his uncle Roger there. While Douglas' father was apparently killed, Douglas was trapped in the town by the infected inhabitants.
When Selena and Clint Harris arrived in Halkirk for antibiotics, they found Douglas. After the trio narrowly avoided the Infected swarming the town, they returned to Kate's house, where Douglas reunited with his mother. But as Douglas blamed Kate for his father's demise, he refused to stay with her and got a reluctant Selena to let him come with her, Clint and Derrick. The four, including Douglas, took refuge in an abandoned hut for the night, but were forced to flee into the woods from a forest fire and the Infected fleeing the flames.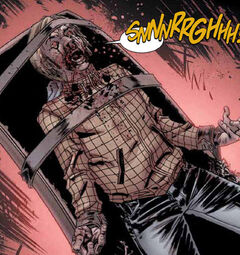 They were captured by American Black Ops soldiers who were part of a black operation to try and weaponise the Infection, and were taken back to their camp. Douglas begged to be let go and taken home as he was injected with the Rage Virus by Dr. Billingsworth as an experiment. Later, after Selena broke free, she gave the infected Douglas a mercy killing by slitting his throat with a knife.
Community content is available under
CC-BY-SA
unless otherwise noted.