Portrayed by:
N/A
Appearance(s):
28 Days Later (comic series)
Profession:
Nationality:
British
Category:
Uninfected
Status:
Unknown
Cause of death:
King Dixon was the tyrannical ruler of the Kingdom of Edinburgh.
Biography
[
]
Before the Original Outbreak of the Rage Virus, Dixon was a drug dealer and a gangster. After the Infection broke out and decimated Great Britain, Dixon took over Edinburgh as king, and made Raj's wife, Minnie, his queen, and Raj himself as something of a lieutenant.
After Selena and Clint Harris arrived in Edinburgh and were captured, Raj took them to see Dixon and Minnie. Dixon and Minnie took one of the duo's guns, some of their vitamins, and Selena's earrings to pay for the alcohol the two had drunk at the Guildcrest Tavern. Dixon then had Selena put in the Mannequin for the night, while Clint was taken in by Raj in the meantime.
When Raj explained what Clint had told him about being a journalist, Dixon did not believe him and hit him in the head with the butt end of a rifle. Shortly after, Edinburgh was attacked by Glaswegians, several of whom attacked and surrounded Dixon in the subsequent street brawls. It is unknown whether or not Dixon survived this.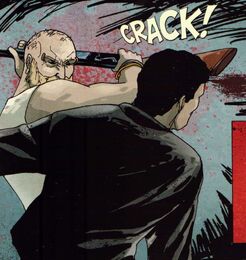 Personality
[
]
Dixon was a violent and abusive tyrant, who had no qualms over attacking, physically abusing and murdering others merely for annoying him or refusing to comply with his and Minnie's orders.
However, despite his vicious and brutal personality, Dixon did seem to believe in trade, and he was willing to put off desire to kill those that he disliked, if it would stop Minnie from becoming upset at him. Dixon also seemed to admire Selena's bravery in standing up to him.