Private Davis was a soldier under Major Henry West's command. He was killed by Jim. His accent indicates that he is of Northern descent.
Biography
[
]
During the Original Outbreak of the Rage Virus, Davis was among the soldiers sent to cover the Forty-Second Blockade protecting Manchester, defending it against repeated Infected attacks. However, the Infected eventually overran the blockade and entered the city, killing all the soldiers at the blockade except for West and nine of his men, including Davis.
The surviving men resolved to escape to the Worsley House in the forest, which they fortified against attack with mines, tripwires, barbed wire and barricades. On Day 23 of the outbreak, West made a promise to his men that any female survivors they found would be forced into sexual slavery.
Thirty-one days into the outbreak, Davis was present when Jim, Selena and Hannah arrived at the Worsley House and were taken in by Major West and the men. At dinner that night, Davis expressed how desperate he was for proper food at dinner and started a conversation that showed the soldiers' opinions of what was "normal".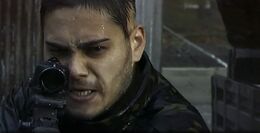 The next day, when the men were planning to force Hannah and Selena into sexual servitude, Davis restrained Hannah while Clifton and Bedford forcefully stripped Selena. When the blockade alarm was sounded by Jim, Davis and Major West went to the Forty-Second Blockade to investigate. While Davis was searching the blockade, he was taken by surprise on a ladder by Jim, who hit him over the head with a crowbar, killing him. Jim then placed Davis' body in the jeep he and West had used to arrive.
When Major West found Davis' body, he dragged it out of the jeep to try and escape in it.
Personality
[
]
Like most of the other soldiers, Davis did not disagree with Major West's plan to force female survivors into sexual slavery. He even expressed some pleasure in seeing his fellow soldiers strip Selena, indicating that he shared Bedford and Mitchell's sadism. He had some strange hair condition.