Portrayed by:
N/A
Appearance(s):
28 Days Later (comic series)
Profession:
Nationality:
Iraqi
Category:
Infected
Status:
Unknown
Cause of death:
Ahmed Karzaii was an Iraqi insurgent and a member of the Crescent Jihad Faction.
Biography
[
]
Ahmed was captured at some point by the CIA, and was kept prisoner by them.
During the Original Outbreak of the Rage Virus in Great Britain, Karzaii was taken out of CIA custody by Major Sanders and moved to a research facility on the Isle of Wight.
There, Karzaii spoke Islamic prayers and was injected with Rage Virus as an experiment to try and find a cure, infecting him. Though the infected Karzaii was strapped down, he managed to grab the apron of the scientist who infected him, causing the scientist to fall over and accidentally infect himself.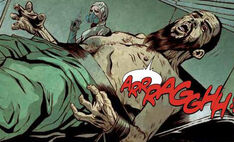 It is unknown what happened to the infected Karzaii afterwards, but he was most likely killed.